Shopping Basket
Your Basket is Empty
There was an error with PayPal
Click here to try again
Thank you for your business!
You should receive an order confirmation from Paypal shortly.
Exit Shopping Basket

Do you remember in grade school when bullies would jack (Take) you up for your milk or lunch money? I remember in the first grade when a nine-year old con artist convinced me to let her hold onto my milk money. She told me she would come to my classroom to bring my milk. Needless to say I didn't have milk that day, but I learn quickly to hold onto my milk money. In high school I saw kids deliberately put their finger in someone's desert and asked if they wanted it. They took it as if they had a right to it. But, what happens when God ask for your lunch money? That is exactly what happened to me.   
The Lord taught me a valuable lesson at a women's retreat. A retreat I hadn't planned on attending. Two of the speakers had asked me to pray for them during this retreat. I felt I didn't need to go to this retreat to pray for the services for them. The truth was I didn't have the money or the time to attend. As the date drew nearer I felt the Lord gently nudging me to go. I called a dear friend of mine, and asked if she would like to go and share a hotel room with me. She was elated and so was I, seeing we hadn't spent time together in awhile.   
As I was about to leave I felt the Lord impress upon me to take some of my books. I questioned why, seeing I wasn't about to promote myself, but just in case I grabbed a few. When I opened the trunk of my vehicle, I noticed several more books of mine already neatly tucked in a secured section of the trunk. Now I had plenty of books and still wasn't sure why.   
After filling the vehicle with gasoline, eating dinner at a fast food, and paying my share of a two-day hotel bill, I was left with $10.00. Thank God the food was including in the registration, which I had already paid. The $10.00 would be used to grab something to eat on the way back home from the retreat.   
The first evening of the service I realized I didn't figure in the offering, which would be taken at each session. Great, I thought now what should I do? Some people may not feel bothered by this dilemma, but I was. I decided I would give two dollars in the offering. That would still leave me with eight dollars to eat with, no problem I could manage that.   
The next morning the offering was passed around again. I only had eight dollars. I decided I would put another $2.00 in the offering that would leave me with $6.00. I would definitively be eating lunch at a fast food restaurant from the dollar menu. I also decided at this point to prove God at His word. Luke 6:38 says, "Give, and it shall be given unto you; good measure, pressed down, and shaken together, and running over, shall men give into your bosom. For with the same measure that ye mete withal it shall be measured to you again." So I put a request on my offer (seed). I asked the Lord to use this seed money to bring back a double portion with my books. For every two dollars planted that I would sell two of my books.   
After the morning session the host spoke to me. We hadn't seen each other in several years, so it was nice being able to talk. She asked me what I had been doing and I informed her that I had published my first book and was working on another. She was interested in purchasing the book, and gave me permission to sell them at the retreat.   
It was lunchtime, which was included in the cost of the registration package. Some how I ended up sitting directly across the same table as the host.  After we had finished eating the host said to those seated with us that I had just written a book. She asked me to tell her what the book was about. I looked around the table as eager faces waited for my response. I usually had a hard time explaining the book. As I began to explain about the book, I felt the anointing. Now this had never happened before and I was somewhat taken by it. I was just talking about my book, not presenting a sermon, yet I felt the presence of God. What was God up to? I wondered. When I finish talking about the book several people wanted to purchase it and asked if I had any available. I told them I had some in my car and would give it to them in the conference room just before service started.   
As the afternoon service started once again the offering was given. Now I was determined to finish what God had started. Once again I put in $2.00 in the offering plate leaving me with a whopping $4.00. I still could get something from the dollar menu at McDonald. Not realizing there was no McDonald in this small town. Again I asked the Lord to use this seed to bring back a double portion with my books.   During the dinner break several other people had heard I had written a book and also wanted to purchase it.  
My friend who went to the retreat with me was amazed, seeing I didn't promote the book. I had shared with her that evening about the seed offering. We both recognized the hand of God intervening on my behalf. As I was obedient in giving a sacrificial offering, God was willing to bless me. This was a lesson and blessing I will never forget.  At this point I was no longer worried about if I had enough money to eat after the retreat. Instead I was concerned if I had enough books.   Amos 9:13 says, "Behold, the days come, saith the LORD, that the plowman shall overtake the reaper, and the treader of grapes him that soweth seed; and the mountains shall drop sweet wine, and all the hills shall melt. The reaper shall overtake the sower." I was seeing this scripture fulfilled at this appointed time and season in my life.   
In Gen.22:14, Abraham called the name of that place where the Lord provided an offering (ram) Jehovah-jireh. In Exod. 6:3 the Lord told Moses, "And I appeared unto Abraham, unto Isaac, and unto Jacob, by the name of God Almighty, but by my name JEHOVAH was I not known to them." The children of Israel would know him as Jehovah, and so will the Body of Christ. My Heavenly Father reveals Himself to me as Jehovah Jira, my Provision at a time that I desperately needed to see him as such.   
We can know about God, by what we have read and heard about Him, or we can know Him through experiences we have encounter with Him because of a relationship with Him.   
Although I sold my books at a discounted price, one woman gave me double the amount I was asking because she said the Lord told her to. I started with $10.00 and I ended up with $120.00 for my books and that extra $10.00 the women gave me was for my lunch.   
God didn't just give me a double portion but remembered my lunch. He doesn't leave out anything. He cares about the little things in our lives as well as the big things. What if I kept that original $10.00 instead of being obedient and giving into the work of the Lord? I would not have received a blessing or learned a valuable lesson. Sometime it hurts to give, but if we give are money, time, talents as a sacrifice in obedience to His word; He promised according to Luke 6:38, "Give, and it shall be given unto you; good measure, pressed down, and shaken together, and running over, shall men give into your bosom. For with the same measure that ye mete withal it shall be measured to you again."   
I would gladly give my lunch money to the Lord again, and by His grace anything else He asks of me. What about you?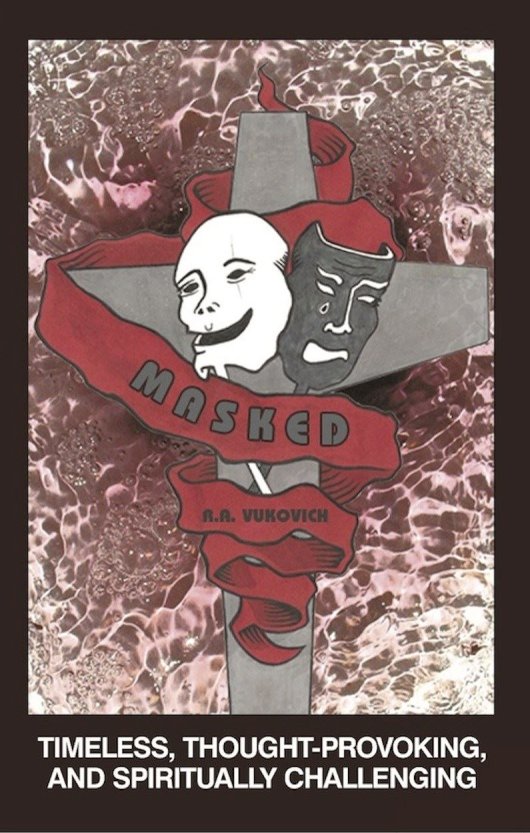 In MASKED by R.A. Vukovich, the author takes us back to our childhood and poses a question to Christians from her book on page five and six.
As a child, many of us believe in the Tooth Fairy, Santa Clause and the Easter Bunny. These characters fueled our imagination, inquisitive question could be avoided and the truth momentarily delayed. As we reached a certain age, the truth was eventually told us. The Tooth Fairy, Santa Claus, and the Easter Bunny are all myths. As a child we had faith to believe what we couldn't see, but were convinced because of the evidence left behind; whether it was carefully wrapped gifts under a tree, a crinkled dollar bill under a pillow or a colorful basket filled with candy, we believed.
Do you remember as a baby Christian having faith to believe all things were possible? Your zeal and passion for God matched your faith. You knew you were a new creature in Christ. You would kick the devil and he couldn't touch you, as you ran into the loving arms of Abba Father. 
Soon the edge came down, and your boundaries increased and so did the trials. Life threw unexpected curve balls and blows, after falling down one too many times our faith dwindled instead of increasing. Why don't we still believe, the evidence of God's love, mercy and grace is there?
/