Shopping Basket
Your Basket is Empty
There was an error with PayPal
Click here to try again
Thank you for your business!
You should receive an order confirmation from Paypal shortly.
Exit Shopping Basket
(Part 4 of 4) Moving on
To Isaac these wells were a necessity for survival, but to the Philistines these were a claim to the land.It appears that Isaac is laboring in vain. No matter what he does or where he goes Isaac is confronted with the same problem, even a change of venue (new place) or new beginnings can't change that.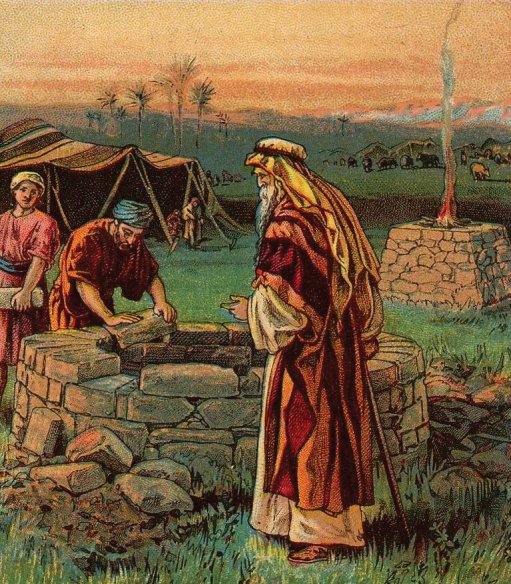 Genesis 26:22 "And he removed from thence, and digged another well;" But it cost him, Isaac had to let go of the wells, he had already dug.
Abraham had to lay down his promise (Isaac) on the alter. Isaac had to walk away from his inheritance. What are you willing to lay down or walk away from? Are you willing to lay down your right to be right? Are you willing to walk away from wealth, fame, position, friends, or family? If not you haven't learned to let go! Isaac refused to stay where there was conflict and hostility.
22"And he removed from thence, and digged another well;
and for that they strove not: and he called the name of it Rehoboth; and he said, For now the LORD hath made room for us, and we shall be fruitful in the land."
While Isaac may not have realized it for some time, it was the disputes over the ownership of the wells he dug or reopened that served to guide him in the direction of the land of promise. Opposition and adversity lead him into the direction that the Lord had for him.
.
Verses 23-25 is the key to the interpretation of chapter 26. Here a very strange thing happens. Up to this time Isaac's decision as to where he should stay was based upon the finding of abundant water and the absence of hostilities. But now, having dug a well that was uncontested, we would have expected Isaac to dwell there. Instead we are told that he moved on to Beersheba, with no reason stated for this move: "Then he went up from there to Beersheba" (verse 23).
He left the well he had previously dug. Why? There was no opposition with the enemy. Isaac could have stayed there. But, Isaac is not content to settle for the sheer comfort and pleasures of life. There is something missing, far more valuable to him then the well in verse 22.
I believe that a significant change has occurred in Isaac's thinking. Circumstances and provision had previously shaped most of his decisions, but now something deeper seems to be giving direction in his life.
What's so important about Beersheba? Beersheba was the first place that Abraham had gone with Isaac after they came down from the "sacrifice" on Mount Moriah.
Isaac knew that God had promised to give him the land promised to his father Abraham (26:3-5). I believe he had finally come to see that through all the opposition over the wells he had dug, God had been guiding him back to the land of promise, back to those places where Abraham had walked in fellowship with God.
I believe that Isaac went up to Beersheba because he sensed on a spiritual level that this was where God wanted him to be. If God had previously been "driving" Isaac through opposition, now Isaac was willing to be led.
24"And the LORD appeared unto him the same night, and said, I am the God of Abraham thy father: fear not, for I am with thee, and will bless thee, and multiply thy seed for my servant Abraham's sake.  25 And he builded an altar there, and called upon the name of the LORD, and pitched his tent there: and there Isaac's servants digged a well."
Verse 25 is of particular interest. Notice especially the order in which Isaac set up residence in Beersheba: Isaac shifted his thinking and action from about Him to about God. Previously knowing the will of God for Isaac had been circumstances—in particular, Isaac stayed wherever he dug a well, found sufficient water, and was not opposed. As soon as opposition a rise Isaac moved on. The unseen hand of God was guiding him, closer to his destination and purpose.
So he built an altar there, and called upon the name of the LORD, and pitched his tent there; and there Isaac's servants dug a well.This was the first time in this chapter that Isaac built an altar.
The place for God's people is the place of God's presence. The place of intimacy, worship, and communion with God is the place to abide. That is how you build an altar. Isaac didn't stop building wells, but he did it in the right order, and instead of opposition he had Peace. He was able to enter into the Rest of the Lord.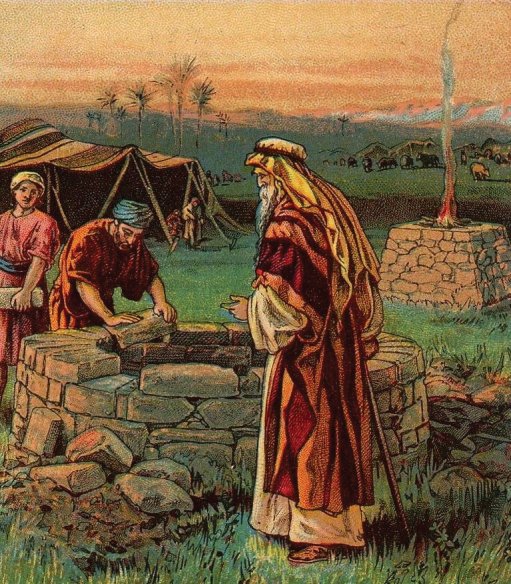 Genesis 26:18 says "And Isaac digged again the wells of water, which they had digged in the days of Abraham his father; for the Philistines had stopped them after the death of Abraham: and he called their names after the names by which his father had called them."
In Genesis 26, we are told that when Isaac dug water wells, he didn't get to start with his own. Isaac recognized his hereditary right and responsibility to re-dig and restore the ancient wells of his father Abraham, which the Philistines stopped up after he died.
When God gives us a vision, a dream, it isn't birth over-night. It takes patience and endurance, Our Heavenly Father always brings us under another ministry, or church. A ministry we must support and care for, It is not ours, but their ministry, their dream. Why? So that we might learn and grow. Many times it is difficult to submit under another leader and authority, because you too are a leader. You too have a vision, but it's just a vision it's not a ministry yet.
We feel the birth pang, the moving and stirring within us. The additional opposition from the enemy. The birth pangs are real, and only remind us we too, have a vision waiting to come forth. Many people walk away from where God has assigned them, because they are offended, or weary from battling the enemy. They just allowed the enemy to reap havoc, and take what belongs to them. It could be their children, spouse, ministry, peace, finances, health, etc. instead of persevering in prayer until the victory is won. Isaac walked away from what he was entitled to because of the enemy taking what was a part of his inheritance.
John 10:10 (KJV)
10 The thief cometh not, but for to steal, and to kill, and to destroy: I am come that they might have life, and that they might have it more abundantly." We are waiting on God to do something and He's waiting on us. Isaac's father, Abraham had provided the well. But it was up to Isaac to reclaim what was rightfully his, that the enemy wanted to keep from him. Our Heavenly Father has provided for his sons and daughters everything they need to be victorious, but it is up to us to claim what is rightfully ours from the enemy.
19 And Isaac's servants digged in the valley, and found there a well of springing water. In the valley of Gerar Isaac dug a well that produced "living water," that is, water that originated from a spring—running water, not simply water that was contained. The Philistine herdsmen disputed with the herdsmen of Isaac over it, so Isaac moved on. The wells of living water represent the flowing forth of God's Spirit from our lives.
 20 And the herdsmen of Gerar did strivewith Isaac's herdsmen, saying, The water is ours: and he called the name of the well Esek; which means STRIFE because they strove with him.
21 And they digged another well, and strove for that also: and he called the name of it Sitnah. SITNAH means HATRED.
You would think he would do what many people think to do when the enemy stirs up like that -- stop digging wells.
That is what the enemy wants us to do. To throw in the towel and quit.
But Isaac did not quit. Why? His very life and those with him depended on this natural resource to survive. Isaac had to dig the wells free of the plugging element. Our lives can be PLUGGED up with things the enemy uses to stop the flow of the well. These things can be trauma, betrayal, rejection, abuse, etc. No matter what it is it comes from the enemy, to plug up what God wants to release through us, and to cause us to give up.
It is up to us to unplug our lives and allow the living waters to spring forth to refresh and restore his people. It starts with us. We must let go of bitterness, unforgiveness, sins, etc. anything that the enemy can use to hinder the love, and purpose of God to be manifested in our lives.
Those wells were a source of life, for Isaac. Just like the spiritual water is to our spirit, soul and body.
It was Isaac inheritance as rightful heir. The well was a landmark also. Who-ever owned the well owned the land the well was on. Isaac wasn't just unplugging wells he was taken back the grounds that the enemy had destroyed and stolen. He was taking back a part of His inheritance, his rights, his identity.
To be continued...

Ruth1:1-4 (1) "Now it came to pass in the days when the judges ruled, that there was a famine in the land. And a certain man of Bethlehemjudah went to sojourn in the country of Moab, he, and his wife, and his two sons. (2). And the name of the man was Elimelech, and the name of his wife Naomi, and the name of his two sons Mahlon and Chilion, Ephrathites of Bethlehemjudah. And they came into the country of Moab, and continued there. (3) And Elimelech Naomi's husband died; and she was left, and her two sons. (4) And they took them wives of the women of Moab; the name of the one was Orpah, and the name of the other Ruth: and they dwelled there about ten years."


There is a lot of symbolism in the book of Ruth from a Theological point of view. Ruth represents the Gentiles who will enter into the covenant of God. Naomi and her husband and sons represent the Israelites who have wander away from God's will. Boaz is the type (pattern) of the coming Christ who would be the kinsman-redeemer to God's people of any descent or background.


From of spiritual perspective the book of Ruth is more than a story of Naomi's transformation from despair to happiness, emptiness to fullness. The book of Ruth is more than the selflessness and sacrifices of Ruth and Boaz. This book should be a witness of our own testimony in finding, unmerited favor, grace, and salvation through the true kinsmen-redeemer, Jesus Christ. 


Many of us whether Hebrew or Gentile, should be able to identify with Naomi and her husband Elimelech. They left their home in Bethlehem, which means "House of Bread" because of famine. They didn't just leave the area, but they left territory of Israel. They left the land that God gave to them as an inheritance and generational blessing. 


Many of us have left a place where we once were blessed. We left because we were dissatisfied and unfulfilled, feeling emotionally fatigue and spiritually deplenished. Many of us leave Church, a place of employment or a relationship because of this. God does sever us in His time from certain relationships, location, and churches for a reason. However, when we leave because we are angry or offended we left for the wrong reason, and failed to allow God to finish in us what he wanted to accomplish. We think we our running away from a bad situation, when we are really running from ourselves and from God. 


Although it doesn't say Naomi and her family ran from Bethlehem, it does say they went and dwelt in Moab. A place God never called his people to dwell, a land of strange custom, and idols. The descendants of Moab are the children of Lot and his daughters, conceived through incest. They settle in Moab and allowed their sons to intermarry. Moab represents the world. Naomi husband dies soon after arriving in Moab. However, Naomi and her sons stay in Moab for ten years. If her sons had not died, and had children, we would never have the book of Ruth. 
Naomi sons do die without leaving an heir and the wives Orpah and Ruth are widows, without any means of support. Another word there is no bread in their house. God will not, He cannot bless our disobedience. I have learned over the years that God will not bless our mess, but He will fix it if we allow Him. 


Ruth 1:6-8 "(6) Then she arose with her daughters in law, that she might return from the country of Moab: for she had heard in the country of Moab how that the LORD had visited his people in giving them bread. (7). Wherefore she went forth out of the place where she was, and her two daughters in law with her; and they went on the way to return unto the land of Judah. (8) And Naomi said unto her two daughters in law, Go, return each to her mother's house: the LORD deal kindly with you, as ye have dealt with the dead, and with me."


Naomi hears in the land of Moab that there is bread in her land of the Israelites. As they reached the borders of Judah she tell her two daughters in laws to leave and return to their land and people. Ruth and Orpah are not obligated to go with her, because there is nothing left that she can do or give them, especially sons.


Ruth 1:14. "And they lifted up their voice, and wept again: and Orpah kissed her mother in law; but Ruth clave unto her.15 And she said, Behold, thy sister in law is gone back unto her people, and unto her gods: return thou after thy sister in law."
Orpah decides to go back and return to Moab a place of familiarity and possibilities. Naomi tells Ruth that Orpah has returned to her people and her gods. Orpah represents those who say they are Christians, but they are not fully committed to following God, or keeping His Word. When things get hard they go back into the world, and their ungodly ways. 


Ruth 1:16-17 "And Ruth said, Intreat me not to leave thee, or to return from following after thee: for whither thou goest, I will go; and where thou lodgest, I will lodge: thy people shall be my people, and thy God my God:17. Where thou diest, will I die, and there will I be buried: the LORD do so to me, and more also, if ought but death part thee and me."


Ruth has made her decision, to forsake all and follow the God of Abraham, Isaac, and Jacob. The God that she has heard so much about, and chooses to trust and lean on in good and hard times. She was willing to let go of the comfort and familiarity of home, to move forward with reckless spiritual abandonment to God. Ruth like many of us desire more than just existing, she was trusting in the living God to give her purpose and destiny. Yet, far to many of us our afraid to let go and trust God, for fear of loosing control. Sadly like Orpah, whose name means stiff neck, we still want to be in control of our lives instead of letting God be in control.…To be continued.

Read Luke 15:21-24
Scripture says, that the prodigal son returned home and repented for the sins he committed against heaven (Heavenly Father) and his earthly father (Man). He was not only forgiven, but also restored in the family. That family represents the Kingdom of God, and the Body of Christ. The prodigal son is given the birth right of the first-born. God doesn't have you start over to prove your faithfulness, nor does he punish you, after you repented.


Verse 25 says, "Now his elder son was in the field: and as he came and drew nigh to the house, he heard music and dancing." He asked one of the servant's what was going on. The servant tells him that his brother has come home safely, and his father has killed the best calf for this joyous occasion.


Verse 28 says, "And he was angry, and would not go in: therefore came his father out, and entreated him." Instead on the eldest son being happy, he is angry. He is angry not because of the transfer of the birthright from the eldest to the youngest. Why is he angry? He is angry because there is no punishment, no stepping down from the prodigal's position or title, no proving his sincerity by taking a leave of absent from ministry. There is no standing before the family, elders, or congregation to confess his sins and expose his shame. The prodigal is left in the hands of his father, who doesn't point the finger at him, but with open arms he embraced him, and forgave him. Isn't that what our heavenly father did for us? Isn't that what he expects us to do for others? To forgive, embrace, and restore them back into the family of God. What it really boils down to isn't protocol, but jealousy. 
The eldest is jealous of the treatment and attention given to someone who is unworthy. None of us can earn or is worthy of salvation. None of us can stand on our own merits or self-works. Jesus Christ alone paid the price for our salvation.


Father's Love 
God the Father sought us and called us, we did not initiate our own calling into the Kingdom of Heaven (John 6:44). Here the Father gives the son what he does not deserve (called grace) and withholds what he actually did deserve (judgment). The father showed mercy. 
Who Does the Eldest Son Represent?
Luke 15: 29-30 says, "And he answering said to his father, Lo, these many years do I serve thee, neither transgressed I at any time thy commandment: and yet thou never gavest me a kid, that I might make merry with my friends: But as soon as this thy son was come, which hath devoured thy living with harlots, thou hast killed for him the fatted calf."


The eldest son represents the religious leaders. The eldest makes a point of letting the obvious be known by saying; "thy son was come, which hath devoured thy living with harlots."  Religious (not spiritual) people see the speck in others people, but not the beam in their own eyes. They can find fault in a tree. They found fault in a sinless Savior because Jesus didn't do things their way. He came against their traditions and legalism. The religious leaders saw their rewards due for their works. They didn't understand that they can bring nothing to the plan of salvation and if they try to earn it, they do not understand how God saves and that it is Jesus' righteousness alone that accounts them worthy.  No human works can ever earn salvation.


Luke 15:31-32, the father tells the oldest son why he is rejoicing: "'my son,' the father said, 'you are always with me, and everything I have is yours." But we had to celebrate and be glad, because this brother of yours was dead and is alive again; he was lost and is found.'"


What I don't understand is why the eldest son isn't upset because of the transference of the first-born inheritance, which was given to the youngest son? This would have upset me more than the prodigal spending his inheritance on riotous living. The fact that he afterwards receives my (eldest) inheritance seems unfair. 


In the Old Testament, the firstborn son was the one who normally received a double inheritance, and was the one who would inherit his father's role as head of the family. God sometimes reversed this order, as he did with Jacob and Esau (Genesis 25:21-26), and as Jacob later did with Ephraim and Manasseh (Genesis 48:13-22). Reuben was the firstborn of Jacob, but his rights as the firstborn were taken away because of his sin (Genesis 35:22; 49:34).


However, besides Reuben or Esau the other people mentioned including the eldest son didn't sin, so why the transference of the double inheritance to the youngest?
Rom. 8:29 says, "For whom he did foreknow, he also did predestinate to be, conformed to the image of his Son, that he might be the firstborn among many brethren." 


I didn't understand why the father did this until I read Romans 8:29 and Isaiah 53:8 which says "He was taken from prison and from judgment: and who shall declare his generation? For he was cut off out of the land of the living: for the transgression of my people was he stricken"


Jesus was the first-born son. He died and didn't receive the birthright (double portion), however we did. We received the birthright because of Jesus, who was crucified for us. We now are sons and daughters of God, who is our Heavenly Father, and we are brothers and sisters in Christ. We have received the promises, blessings, and birthright of the first-born. Isaiah says, "Who shall declare his (Jesus) generation?" The answer is clear we shall declare it!


Forgiveness would be empty without restoration. If you have received Jesus as Lord and Savior then you have found favor with the Father. The best robe (Robe Of Righteousness) has been placed upon you, a demonstration of the Father's complete approval of you and love and protection for you. A ring has been put on your hand representing the riches you have in Christ, authority you have been given in the name of Jesus and installation into the office of king and priest to God. Sandals have been put on your feet affirming son-ship and all of its benefits. 

Verse 20 says, the Father ran toward the son and fell on his neck and kissed him; kissed as a token of his love and endearment; a sign of reconciliation and friendship; expressive of the strength of his affection to him. I believe they both wept and embraced each other. In order for the son to weep he had to let go of some things. Such as pride, resentment, rebellion, and stubbornness. These things may have been dealt with in the pigpen, at the lowest point in his life. However, the father's forgiveness toward his son, and the son forgiving himself was dealt with in the loving embrace of his father.
Remember the prodigal son left home for a reason, whether he had a good reason or not, he felt he did. Whether he felt unloved, misunderstood, or unappreciated, he left with the intention of not returning. He felled into immorality and hardship. His so call friends were not there, when he needed them, they all abandoned him. Unable to provide for himself, stripped of any dignity or self-reliance he remembered his father. 
In order to be set free from the pain, and torment you must let go of certain things. There's an exchange that must take place. You must let go of unforgiveness, bitterness, and resentment. Are you willing to be whole in your body and your soul? If so then you must be willing to let go of the betrayal, rejection, let go of the verbal & physical abuse done to you. You must let go of self-condemnation, and guilt. You must forgive others and you must forgive yourself.   
Robe
Luke 15:22 says "Bring forth the best robe and put it on him."  In having the best robe placed on him, the Father was telling the prodigal as well as all observers that his position as son was being restored. There was no proving his faithfulness or sonship neither was there any punishment or demotion. He had learned a valuable lesson through the pain and hardship he had endured. It was an immediate demonstration of complete approval, love and mercy as well as protection - major benefits of being a son.  
In addition, everyone was witnessing the Father's transfer of the prime inheritance (birthright) from the eldest son to the youngest son. 
Joseph's coat of many colors hinted to his brothers that Joseph would receive the birthright instead of the eldest son, Ruben. The garment was of many colors, not pieces, marking it as a priestly and royal robe. This robe similar to the prodigal son's robe was intended as a mark of honor and rank, worn only by a chief and heir (Gen. 37:3).
Jesus had a woven robe, one piece not pieced together, that the Romans cast lot over. Jesus being the first-born, and Joseph being deceased, would have entitled him to the birthright, and robe according to Jewish tradition. This robe was similar to what the high priest wore.
(John 19:23-24)
Ring
In Luke 15:22 the father demanded the servant to put a ring on his hand. Once again we see this as the father's token of favor, and son ship to the prodigal.
Long ago, presenting a ring to someone was a sign of great affection and also a symbol of being placed in an office of authority; among the rich it was a sign of wealth and dignity.  
Pharaoh removed his signet ring and put it on Joseph's hand when installing him into office in Egypt (Genesis 41:42).  
"In the book of Esther the King took off his ring, the royal signet by which the decrees of government were signed, and gave it to Mordecai (Esther 8:2). The ring showed Pharaoh's affection for Joseph and the King's affection for Mordecai.  This transferred to them all power and authority necessary for the promotions they received, one as Governor and the other as Prime Minister."
The ring placed on the hand of the Prodigal was evidenced of the great affection the Father had toward him. It also announced, once again, the transfer of inheritance, which would ordinarily have gone to the first-born.
Shoes
Luke 15:22 "Put shoes on his feet" In ancient biblical times only servants and slaves went barefoot. Therefore, when the Father ordered shoes to be brought out and put on the Prodigal's feet he said for the third and final time that the Prodigal was not to be treated as a servant, but as a son with all entitlements.
Both Moses and Joshua were asked to remove their sandals because the ground they were standing on was holy ground (Exodus 2:5 & Joshua 5:15). The shoes are a form of entitlement and covering, it had to be removed in the presence of God. Why? They were not entitled to stand before God on their own merits. It is only by His grace and mercy that Moses and Joshua could come into God's presence. They were told to take off their shoes, not anything else. The shoes were not needed before God because He alone is theirs and our covering. He alone is the reason we can come into His presence.
All that the prodigal son received was given to him; he didn't earn or deserve it. Yet, everyone was witnessing the Father's transfer of the prime inheritance (birthright) from the eldest son to the youngest son. But, what about the eldest son who didn't leave home or transgress?...To be continued  
.
Read Luke 15:11-19

Luke 15:17-18 says, "And when he came to himself, he said, How many hired servants of my father's have bread enough and to spare, and I perish with hunger! I will arise and go to my father, and will say unto him, Father, I have sinned against heaven, and before thee."
How does one get set free from sin? A person who received Jesus Christ as their Savior should know the answer. The prodigal son already knew the way home, back to the Father. He did three key things: 
Verse 17 He came to himself (senses)
Verse 18 I have sinned (acknowledgement)
Verse 20 He arose (Repented)
First he came to his senses. He recognized that he had put himself in this situation. He didn't blame his so call friends who abandoned him, nor his upbringing, nor his father (God), or brother (or sister in the Lord). He blamed himself. The prodigal son didn't fall into self-piety. He recognized his condition and acknowledged that he had sinned against heaven and his Father. The prodigal son then arose, and came toward his Father. 
We can feel sorry for ours sins, and we can ask for forgiveness. However, true repentance is turning away from sin. The bible says we are to flee temptation. 
Why didn't his father rescue him? The same reason our Heavenly Father doesn't rescue us. Jesus Christ already paid the price on Calvary for our sins. He already rescued us. It's up to us to accept it, and walk in that finished work, and not grab a hold of what Christ has delivered us from.
God loves the sinners, but He hates sin. Sin separates us from God. God's love is not an excuse to sin, but a reason not to.
The consequences of Sin did not bring the prodigal son to hopelessness, and despair, but it brought him to His knees, it brought him to conviction and repentance. Remembering his father's goodness and mercy drove him home. 
I am reminded of the story of the drowning man. The drowning man's friend, who couldn't swim either, stood helplessly on the shoreline. He watched his friend frantically splashing his arms in the water yelling, "help" and then disappear and reappear in the water. A lifeguard near by watched, but did nothing. The friend asked if the lifeguard was going to save his drowning friend. The lifeguard continue to watch as the man went under the water a second time and reappear. The drowning man unable to scream any more took one last breath and under the water a third and final time he went. The lifeguard then jumped into the water and swam to where the victim was last seen. He then dive under the water and quickly emerged with the motionless victim. Once on shore the victim began coughing. His friend now highly agitated, asked the lifeguard why he didn't rescue him when he first started to drown? The lifeguard said, "If I had tried to save him while he was drowning he would have frantically grabbed a hold of me and pulled us both under. I had to wait until he had no fight left in him, before I could truly rescue him." 
Our Heavenly Father waits until there is no fight left in us, until we have exhausted every means of self-deliverance. Only then when we cry out to Him; He reaches down and save us from ourselves.
The very things the son was seeking for in that country or world, he had at home; Liberty, Joy, Acceptance, Love, Purpose, Fulfillment, Wealth…etc.
Verse 20 says that his Father saw him from a distance. His father (Heavenly Father) saw him too; he saw him when in the far country, spending his substance with harlots, and in riotous living; he saw him when among the swine and husks. He saw us when we were in sin and rebellion. He saw us and he loved us, but He could not deliver us until we repented and turned toward Him. 
The Father saw his son when he came to himself, he saw him in his progress towards him, and looked upon him with an eye of love, pity, and compassion, and ran to his son. Would our Heavenly Father do any less for you? No. Just because you don't see Him, it doesn't mean He doesn't see you. Just because you don't feel His presence it doesn't me He doesn't feel your pain and sorrow. If you would come to your senses, arise and draw near to Him, He will draw near to you.  He would run toward you and like the prodigal son, He would embrace you, and receive you with unconditional love…to be continued
                                                           Read Luke 15:11-18

In Luke 15:1-2 we read, "Then drew near unto him all the publicans and sinners for to hear him. And the Pharisees and scribes murmured, saying, this man receiveth sinners, and eateth with them." The publicans and sinners drew near to hear Jesus. The Pharisees and scribes, the religious leaders of that time also came near— to criticize him. The promised Deliverer has come. The blind see, the deaf speak, and hear, lepers are cleansed, demons are cast out, and the dead are raised to life. The Lord is visiting His people.
What the Pharisees saw was that Jesus violated their customs and traditions. He can't be of God! They didn't look at the miracles, and healings. They didn't care to see the mighty move of God touching and transforming lives. All revivals have prematurely stopped because of this same hypocritical thinking, this same religious spirit.

The Pharisees murmured, saying, "This man receiveth sinners, and eateth with them." Jesus tells them two parables, which sinners and Pharisees, publicans and scribes could accept, and relate to. One was the lost sheep, and the other was piece of silver. This is something they all had in common; they would all have sought out that sheep and silver for material gain. Now Jesus has their attention and he brings the story closer to home. This is not a story of financial blessing, but a spiritual blessing. This is not a parable of sheep or silver, but a story about a living soul that was spiritually lost.  

The different characters; the Scribes and Pharisees represent the elder son, and the publicans and sinners the youngest son. The Loving, Merciful, and Forgiven Father represent's Our Heavenly Father.
I like what Barnes commentary says, "The story of the prodigal is the story of one who goes from possessor, to prodigal, to pauper, to penitent, to pardoned." The youngest son represents all of those who have been called by God and for whatever reason; they have placed one foot in the church and one foot in the world.

This cannot be a picture of the lost (unbelievers). A person lost, physically or spiritual does not know where they are. They need someone to show them the way, to rescue them. But, a child of God who chooses to sin know exactly where they are and they know the way back. They are not lost, but backslidden. If they choose to stay in a backslidden state they can become spiritual and permanently lost. If they choose not to repent they loose the ability to spiritually discern their physical and spiritual state. Now they have one foot in Heaven, and one foot in Hell. 

Luke 15:11-12 says, "And he said, a certain man had two sons: And the younger of them said to his father, Father, give me the portion of goods that falleth to me. And he divided unto them his living." When the young son came to his father to ask for his inheritance, in the Jewish culture of that day, it was like he was saying, "I can't wait until you are dead!"  This was highly unconventional and was insulting of the father. This is what the Jewish leaders understood and in their minds, they would not have received the young son back into the family. This young man wanted the blessings and promises of God and also the pleasures of this world.
Verse 13 says he gathered all his things and he took his journey into a far country. He had no intentions of returning, if he did he would not have taken everything he owned. I don't know why he left. Most young people leave because they don't like the rules. The rules restrict them from doing what they want to do.

In Exodus 19:12 in the wilderness at Mt. Sinai God ordered bounds to be placed around the Mount, lest people touched the Holy Mountain and die. Those bounds where not there to keep the people away, but to protect them and keep them from a sure death. God still set bounds in our lives or commandments such as; thou shall not steal, thou shall not commit adultery, thou shall not have no other gods before me. These commandments or boundaries are there to protect us from the consequences of sin. 

In Deuteronomy 27 & 28 speaks about how certain sins will bring a curse upon a person and their family bloodline. What kind of curses? Premature death, poverty, mental illness, diseases, bareness… The curses don't just affect the person who committed them, but also their children, grandchildren, great grandchildren, to the third and fourth generation. 

Romans 6:23 clearly say the wages of sin is death. Sin will strip you from God's presence, peace, joy, and mental and physical well-being.   

The son took his journey into a far country; which sets forth the state of alienation a sinner is in. He separated himself from anyone who could have helped him, Father, family, pastor, church, or Christians. 

A backslidden person is not looking for someone to rescue him or her, but someone to understand and accept him or her. The world would say we understand and accept you. The church would say we love you, but we reject your choices and life style. The backslider takes that to mean that Christians reject them because of their lifestyle and choices. Which is a distortion of the truth. God loves the sinner, but he hates sin. God's love does not give us a license to sin, but rather a reason not to sin.

This young man wasted his substance with riotous living. Verse 14 says, "And when he had spent all, there arose a mighty famine in that land; and he began to be in want." Sin strips a man of all that is good and valuable; of the image of God, of the knowledge of divine things, of natural holiness, of moral righteousness, intimacy, purpose, and destiny.

Scriptures says, "He began to be in want." Although he was already in need when he spent everything, he didn't realize it until he needed something that he didn't have, something vital to his physical or spiritual survival.

Famine is usually due to drought, or pestilence: It brings a scarcity of natural food. Someone who is in rebellion against God, will be spiritual famished due to a lack of God's Word, and the Living Water to nourish and quench their thirsty soul. Material things can only fill a natural void, but never a spiritual one. It isn't until we realize that we are in want, that we attempt to fill that need. The prodigal son in verse 15 joined himself to a citizen of that country although he was a citizen of another country. He joined himself to a famish country that had nothing to offer him, but disappointment and discouragement. He had dual citizenship. Comparable to having one foot in Heaven, and one foot in Hell….to be continued 
/