Shopping Basket
Your Basket is Empty
There was an error with PayPal
Click here to try again
Thank you for your business!
You should receive an order confirmation from Paypal shortly.
Exit Shopping Basket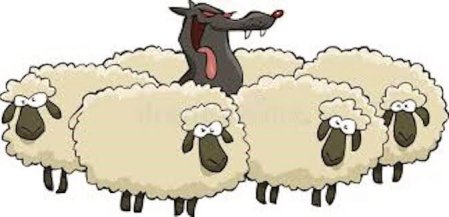 Acts 20:29 say "For I know this, that after my departing shall grievous wolves enter in among you, not sparing the flock."
The saying "Wolf in sheep's clothing" simply means someone who is pretending to be something they are not. We have a lot of people in the Church pretending to be Christian, but they are not. Some are even wolves.
Wolves are sneaky. They watch the prey and plan the attack. We think that wolves are just false prophets, but many people I have meant were not prophets. Then how do you spot them?
 He or she is the one who calls secret meetings. They don't agree how the church is being run, especially anything to do with the Spirit of God. They are worldly oriented and feel the worldly way of doing things is advantages.
They gain the trust of people and then rises up to attack, taking innocent victims with them.
He or she is usually talented and gifted, but not anointed. They think they know how to run the Church, without any experience or calling. They are not led by the Spirit of God. But a Spirit of faulting finding, and self-exaltation. Their goal is to take over the congregation or close it down. If they cannot close it down, they will take as many misguided, and deceived people as they can with them.
Where do they go? To the next church on their list. They play the victim card but have left a trail of victims, lies, and destruction behind them.
How did the wolf get in the church among sheep undetected? We let them in and sadly did nothing about it. When was the last time your church gave an altar call? When was the invitation to come forward to accept Jesus Christ as your personal Savior and Lord gave?
We don't want to embarrass or offend someone, so we keep silent and treat everyone as sheep, even though they are not all sheep.
Galatians 5:19-21 (Amplified Bible)
"19 Now the practices of the [a]sinful nature are clearly evident: they are sexual immorality, impurity, sensuality (total irresponsibility, lack of self-control), 20 [b]idolatry, [c]sorcery, hostility, strife, jealousy, fits of anger, disputes, dissensions, factions [that promote heresies], 21 envy, drunkenness, riotous behavior, and other things like these. I warn you beforehand, just as I did previously, that those who practice such things will not inherit the kingdom of God."
When the church begins to look like the world, by compromising the Word of God. When Galatians 5:19-21 is evident in the lives of those who profess to be Christian, but the fruit is not there, sooner than later that Church will look more like the world, than Jesus Christ.
Why? When was the last time the church gave an altar call? When did we call sin, sin, and when with Godly conviction and sorrow, pray for ourselves and the people to repent of their wicked ways and turn to the living God.
Acts 20:28-30 "Pay careful attention to yourselves and to all the flock, in which the Holy Spirit has made you overseers, to care for the church of God, which he obtained with his own blood. I know that after my departure fierce wolves will come in among you, not sparing the flock; and from among your own selves will arise men speaking twisted things, to draw away the disciples after them."
Romans 16:17-18 (KJV) "Now I beseech you, brethren, mark them which cause divisions and offenses contrary to the doctrine which ye have learned; and avoid them. For they that are such serve not our Lord Jesus Christ, but their own belly; and by good words and fair speeches deceive the hearts of the simple." 
With Christmas soon approaching, people have already started or are finished with their Christmas shopping. The early birds find a need to beat the rushing mobs of people, and cash in on those great savings while they last. Those who are computer savvy have already ordered everything on line. They relish the ideal of not being inconvenience by leaving their home and fighting through the seemingly endless line at the check-out register.
We either force ourselves to get into the Christmas spirit by December 23 or we have all of our shopping done and decorations up by Thanksgiving Day or at least the day after.
Why do we do this to ourselves every year? Is it's because we feel obligated? People give gifts during this special time for many reasons. Most of the time it's because its a family tradition, others give because it is expected of them and some people give a gift simply because they want to. It seems the older we get the smaller the tree and less is best, whether it's less gifts, money, decorations, or sending Christmas cards to a few special friends.
We try to give a gift that the recipient would like or need. Hopefully it is both something they want and need. Have you ever received a gift you didn't want? Most of us have. Most people would exchange it or rewrap it and give it to someone else. The problem with my family is I can't rewrap or give it to someone else.
Last year's on my birthday I received a child's used library book from my granddaughter, a dis set for golfing and a puppy. I was afraid to return the library book in, couldn't imagine what the late fees would be over a couple of years. I injured myself trying to play dis golfing nine months before the gift and said to my husband then, I won't play that again. He purchased the dis anyhow for my birthday. When I reminded him I don't play dis golfing he kindly said, he would keep the gift he got me for himself, how convenient.
And the puppy (Luna) was a gift on my birthday that my grandson plopped into my lap. When I told him I didn't want a puppy, take it back, He said it wasn't my gift it was his birthday gift which had passed two months earlier. I have found out some gifts are not exchangeable or returnable.
John 3:16 says, For God so loved the world, that he gave his only begotten Son, that whosoever believeth in him should not perish, but have everlasting life.
John 3:16 says, God gave. God gave us a gift, His Son, Jesus Christ as a sacrificial offering for our sins. It didn't cost us anything, but it cost Jesus His life. God the Father gave us a great and precious Gift, so that we can inherit eternal salvation. Although some gifts may not be exchangeable or returnable, many have rejected the gift of eternal life, salvation. While others, don't even bother to unwrap the gift to see what their inherited blessings are.
Why did God give us His Son? John 3:16 says because he so loved the World, meaning us, humanity. But wait there's more. After we accept Jesus Christ as our Savior and Lord, we receive more gifts.
Jesus also gave us gifts. Ephesians 4:8-9 says, "Wherefore he saith, when he ascended up on high, he led captivity captive, and gave gifts unto men. When Jesus ascended into Heaven He gave gifts onto men.
 Also the Holy Spirit also give us gifts for the Body of Christ in 1 Corinthians 12:7-11
A gift or a present is an item given to someone without the expectation of payment or return. So why all these gifts? The answer is because of covenant….to be continued
/