Shopping Basket
Your Basket is Empty
There was an error with PayPal
Click here to try again
Thank you for your business!
You should receive an order confirmation from Paypal shortly.
Exit Shopping Basket
| | |
| --- | --- |
| Posted on 30 May, 2013 at 19:24 | |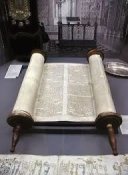 Excerpts from the book "MASKED" by R.A. Vukovich 
If Only He Knew 
One story I have read countless times is the story of a young man who had been crippled at the age of five. Although the story may not have occurred exactly this way, I think you will get the picture. This man had spent his childhood hiding out in a remote village—hiding out in fear of the one man who would want him dead, a man whom he was told his grandfather did not trust. The man had been found and summoned before this tyrant. There was nowhere he could hide. He was cornered like a dog, filled with fear and perhaps anger. He was carried past the crowds of on lookers, some starring at his crippled body with pity and others with contempt. You could hear the chants getting louder: "No cripples in the palace."
   He trembled in fear, trying to steady his crippled body, as he wondered what threat was he to anyone. His countenance had aged with worry, his eyes were filled with sorrow, and his heart hardened toward God. Yes, he was bitter; God had not answered his prayers, and life had not been fair. His crippled legs were a constant reminder of his life—painful and dysfunctional. 
   As he lay trembling before this man, he caught a glimpse of his face. He could be mistaken, but he thought he saw a smile upon his face—not a smile of triumph, but one of compassion. He dared not take another look. Soon the man towered over him and called him by his name: "Mephiboseth." The man then said, "Fear not, for I will surely show you kindness, for your father's sake, and will restore to you all the land of your grandfather. I will also give you servants to till the land, but you, Mephiboseth, shall eat bread at my table continually." Why? Because of a covenant made long ago between a young man named David and his friend, Mephiboseth's father, Jonathan.
It Takes Two 
Years earlier, Jonathan and David stood on the battlefield. A giant named Goliath had been slain by a mere boy. David knew the Lord of Covenant would deliver Israel. David stood smiling in triumph at Jonathan. 1 Samuel 18:1 says, "That the soul of Jonathan was knit with the soul of David, and Jonathan loved him as his own soul." Can you imagine that God loves you just as much? We read that Jonathan and David made a covenant. 1 Samuel 18:4 says, "Jonathan stripped himself of the robe that was upon him, and gave it to David, and his garments, even to his sword, and to his bow, and to his girdle." Could Jonathan and David have said, as they exchanged garments, "I am putting on you—and you me. We are one"?
   When they handed each other their belts, could they have said, "When you are weak, my strength will be there for you."
As they took each other's weapons, bows, and slingshots and exchanged them, perhaps they said, "Your enemies are now mine, and mine yours." Although it doesn't say what David did, it takes two to cut covenant. David had to be a willing participant.
   A few years later, David and Jonathan stood in a field, facing one another. Jonathan reminded David of their covenant in 1 Samuel 20:14–15: "Thou shalt not only while yet I live shew me the kindness of the Lord, that I die not; But also thou shalt not cut off thy kindness from my house for ever: no, not when the Lord hath cut off the enemies of David every one from the face of the earth."
David not only was fulfilling his part of the covenant he made with Jonathan regarding Jonathan's seed, but he also went above and beyond by allowing Mephiboseth to eat at the king's table as one of his sons. However, this is no less than what our heavenly Father has done for our seed and for us from generation to generation because of covenant.
   If only Mephiboseth had known about a covenant—a covenant sealed with his father's blood with him in mind of enduring and unfailing love that transcended even death— it would have saved him from unnecessary heartache and sorrow. If only he had known about this covenant sooner, he would have been living as one of the king's sons instead of living in fear and isolation.
To be continued...
Categories: Blood Covenant
/