Shopping Cart
Your Cart is Empty
There was an error with PayPal
Click here to try again
Thank you for your business!
You should be receiving an order confirmation from Paypal shortly.
Exit Shopping Cart
| | |
| --- | --- |
| Posted on 16 September, 2013 at 19:08 | |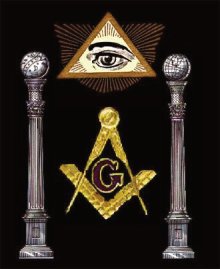 Deuteronomy 6:4-5, "Hear, O Israel; the Lord is our God, the Lord alone. You shall love the Lord your God with all your heart and with all your soul and with all your might." (RSV)   
I have used numerous books and websites, along with information obtained from the Jonathan House Ministry, out of Rochester, Mn. I will let you decide whether Freemasonry is a club or cult. My desire is that you will understand what Freemasonry believes, and how this has a detrimental affect on families whose family members and ancestors have been involved in this organization.    
One of the books I have researched from is titled, " The Dark Secrets of GAOTU" by Dr. Ana Mendez-Ferrell. The letters in the title come from Freemasonry. They believe that GAOTU is the True god. It stands for "The Great Architect of the Universe." In my studies I have also come across "GTGAOTU" which stands for, "Glory to the Great Architect of the Universe."   As a Christian we wouldn't think much of this, since we believe that Almighty God is the creator of the universe. However, "GAOTU" The Great Architect is not the same God, but has its origin in Egyptian paganism. We will take a closer look into this later.   
Freemasonry is the most wide spread secret society in the world. It's a fraternal organization that arose from obscure origins in the late 16th to early 17th century.   There are fifty-one Grand Lodges in the United States, one for each state and Washington D.C. Each Grand Lodge is the governing authority for Freemasonry in a given jurisdiction and all Blue Lodges in the jurisdiction report to The Grand Lodge.   
This shows how rapidly this organization has grown and spread in our country and is still growing. However, most men who join are not aware of what their beliefs our and the consequence of divulging or leaving the organization, nor the word curses pronounced upon themselves and their families.   
The first degree is called Enter Apprentice. The second degree is called Fellow Craft and the third is called Master Mason. Most men only go to the third degree, but if they choose, they may advance either through the York Rite or the Scottish Rite. The Scottish Rite has thirty additional degrees. In each degree the mason pledges himself to a different Egyptian deity.   
Exodus 20:1-5 states, " Then God spoke all these words: I am the Lord your God, who brought you out of the land of Egypt, out of the house of slavery, you shall have no other gods before me. You shall not make of yourself an idol whether in the form of anything that is in heaven above, or that is on the earth beneath or that is in the water under the earth." (RSV)   
John 14:6 states, "Jesus saith unto him, I am the way, the truth, and the life: no man cometh unto the Father, but by me." (KJV)   
Many people question why as Christians, are we so against Freemasonry? Don't they and the Shiriners, who I will get to later, do all kinds of good work? I believe that you will have a better understanding if I go over what some of their past and present leaders have stated, and why they do the good works they do.   
"It is a lamentable fat that the great mass of our membership are…densely ignorant of everything connected with masonry." Rollin C. Blackmer   
"It is important to strip from all religions their orthodox tenets, legends, allegories and dogmas." Henry Clausen   
"The prevailing Masonic opinion is that the Bible is only a symbol of divine will, law, or revelation and not that its contents are divine law, inspired or revealed." Henry Coil   
" When our rituals and monitors tell us the Bible is one of the great lights of Masonry and that, as such, it is the rule and guide to our faith, it can only be speaking symbolically as it certainly is when speaking of the other two great lights, the square and the compass." Silas H. Shepherd   
You can begin to see from the quotes of these Masonic leaders what their view of the bible is and what Freemasonry is not. Unfortunately, what new members all have in common is that they join without knowing the true aim of Freemasonry and are totally blinded to the spiritual powers that rule over it. Whether we admit it or not, there are spiritual forces at work. Though we may not take them into account, or even deny their existence, it doesn't prevent them from having an influence over our lives. In many cases these forces drag their naïve victims into the depths of depression, to insanity and even unto death. To be continued…
Categories: Freemasonry: Club or Cult?
/