Shopping Basket
Your Basket is Empty
There was an error with PayPal
Click here to try again
Thank you for your business!
You should receive an order confirmation from Paypal shortly.
Exit Shopping Basket
| | |
| --- | --- |
| Posted on 29 May, 2017 at 14:20 | |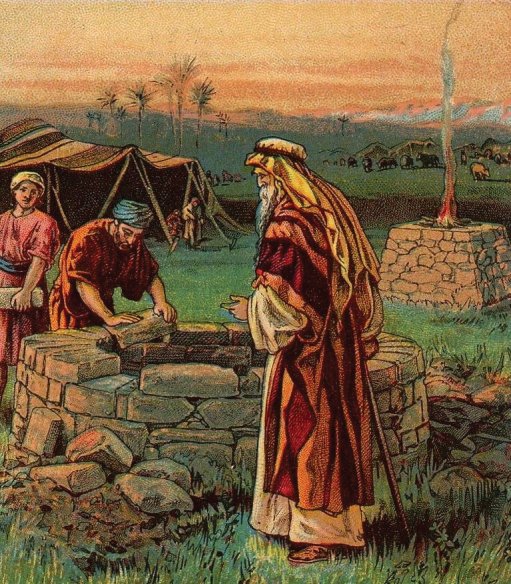 Genesis 26:18 says "And Isaac digged again the wells of water, which they had digged in the days of Abraham his father; for the Philistines had stopped them after the death of Abraham: and he called their names after the names by which his father had called them."
In Genesis 26, we are told that when Isaac dug water wells, he didn't get to start with his own. Isaac recognized his hereditary right and responsibility to re-dig and restore the ancient wells of his father Abraham, which the Philistines stopped up after he died.
When God gives us a vision, a dream, it isn't birth over-night. It takes patience and endurance, Our Heavenly Father always brings us under another ministry, or church. A ministry we must support and care for, It is not ours, but their ministry, their dream. Why? So that we might learn and grow. Many times it is difficult to submit under another leader and authority, because you too are a leader. You too have a vision, but it's just a vision it's not a ministry yet.
We feel the birth pang, the moving and stirring within us. The additional opposition from the enemy. The birth pangs are real, and only remind us we too, have a vision waiting to come forth. Many people walk away from where God has assigned them, because they are offended, or weary from battling the enemy. They just allowed the enemy to reap havoc, and take what belongs to them. It could be their children, spouse, ministry, peace, finances, health, etc. instead of persevering in prayer until the victory is won. Isaac walked away from what he was entitled to because of the enemy taking what was a part of his inheritance.
John 10:10 (KJV)
10 The thief cometh not, but for to steal, and to kill, and to destroy: I am come that they might have life, and that they might have it more abundantly." We are waiting on God to do something and He's waiting on us. Isaac's father, Abraham had provided the well. But it was up to Isaac to reclaim what was rightfully his, that the enemy wanted to keep from him. Our Heavenly Father has provided for his sons and daughters everything they need to be victorious, but it is up to us to claim what is rightfully ours from the enemy.
19 And Isaac's servants digged in the valley, and found there a well of springing water. In the valley of Gerar Isaac dug a well that produced "living water," that is, water that originated from a spring—running water, not simply water that was contained. The Philistine herdsmen disputed with the herdsmen of Isaac over it, so Isaac moved on. The wells of living water represent the flowing forth of God's Spirit from our lives.
 20 And the herdsmen of Gerar did strivewith Isaac's herdsmen, saying, The water is ours: and he called the name of the well Esek; which means STRIFE because they strove with him.
21 And they digged another well, and strove for that also: and he called the name of it Sitnah. SITNAH means HATRED.
You would think he would do what many people think to do when the enemy stirs up like that -- stop digging wells.
That is what the enemy wants us to do. To throw in the towel and quit.
But Isaac did not quit. Why? His very life and those with him depended on this natural resource to survive. Isaac had to dig the wells free of the plugging element. Our lives can be PLUGGED up with things the enemy uses to stop the flow of the well. These things can be trauma, betrayal, rejection, abuse, etc. No matter what it is it comes from the enemy, to plug up what God wants to release through us, and to cause us to give up.
It is up to us to unplug our lives and allow the living waters to spring forth to refresh and restore his people. It starts with us. We must let go of bitterness, unforgiveness, sins, etc. anything that the enemy can use to hinder the love, and purpose of God to be manifested in our lives.
Those wells were a source of life, for Isaac. Just like the spiritual water is to our spirit, soul and body.
It was Isaac inheritance as rightful heir. The well was a landmark also. Who-ever owned the well owned the land the well was on. Isaac wasn't just unplugging wells he was taken back the grounds that the enemy had destroyed and stolen. He was taking back a part of His inheritance, his rights, his identity.
To be continued...
Categories: Letting Go
/