Shopping Basket
Your Basket is Empty
There was an error with PayPal
Click here to try again
Thank you for your business!
You should receive an order confirmation from Paypal shortly.
Exit Shopping Basket
| | |
| --- | --- |
| Posted on 31 August, 2017 at 12:01 | |
(Part 4 of 4) Moving on
To Isaac these wells were a necessity for survival, but to the Philistines these were a claim to the land.It appears that Isaac is laboring in vain. No matter what he does or where he goes Isaac is confronted with the same problem, even a change of venue (new place) or new beginnings can't change that.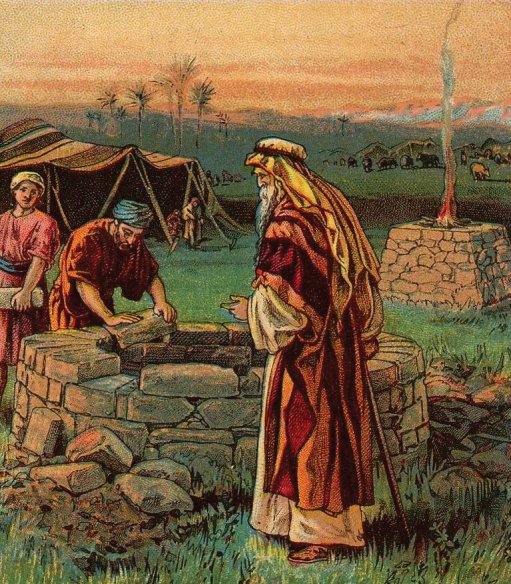 Genesis 26:22 "And he removed from thence, and digged another well;" But it cost him, Isaac had to let go of the wells, he had already dug.
Abraham had to lay down his promise (Isaac) on the alter. Isaac had to walk away from his inheritance. What are you willing to lay down or walk away from? Are you willing to lay down your right to be right? Are you willing to walk away from wealth, fame, position, friends, or family? If not you haven't learned to let go! Isaac refused to stay where there was conflict and hostility.
22"And he removed from thence, and digged another well;
and for that they strove not: and he called the name of it Rehoboth; and he said, For now the LORD hath made room for us, and we shall be fruitful in the land."
While Isaac may not have realized it for some time, it was the disputes over the ownership of the wells he dug or reopened that served to guide him in the direction of the land of promise. Opposition and adversity lead him into the direction that the Lord had for him.
.
Verses 23-25 is the key to the interpretation of chapter 26. Here a very strange thing happens. Up to this time Isaac's decision as to where he should stay was based upon the finding of abundant water and the absence of hostilities. But now, having dug a well that was uncontested, we would have expected Isaac to dwell there. Instead we are told that he moved on to Beersheba, with no reason stated for this move: "Then he went up from there to Beersheba" (verse 23).
He left the well he had previously dug. Why? There was no opposition with the enemy. Isaac could have stayed there. But, Isaac is not content to settle for the sheer comfort and pleasures of life. There is something missing, far more valuable to him then the well in verse 22.
I believe that a significant change has occurred in Isaac's thinking. Circumstances and provision had previously shaped most of his decisions, but now something deeper seems to be giving direction in his life.
What's so important about Beersheba? Beersheba was the first place that Abraham had gone with Isaac after they came down from the "sacrifice" on Mount Moriah.
Isaac knew that God had promised to give him the land promised to his father Abraham (26:3-5). I believe he had finally come to see that through all the opposition over the wells he had dug, God had been guiding him back to the land of promise, back to those places where Abraham had walked in fellowship with God.
I believe that Isaac went up to Beersheba because he sensed on a spiritual level that this was where God wanted him to be. If God had previously been "driving" Isaac through opposition, now Isaac was willing to be led.
24"And the LORD appeared unto him the same night, and said, I am the God of Abraham thy father: fear not, for I am with thee, and will bless thee, and multiply thy seed for my servant Abraham's sake.  25 And he builded an altar there, and called upon the name of the LORD, and pitched his tent there: and there Isaac's servants digged a well."
Verse 25 is of particular interest. Notice especially the order in which Isaac set up residence in Beersheba: Isaac shifted his thinking and action from about Him to about God. Previously knowing the will of God for Isaac had been circumstances—in particular, Isaac stayed wherever he dug a well, found sufficient water, and was not opposed. As soon as opposition a rise Isaac moved on. The unseen hand of God was guiding him, closer to his destination and purpose.
So he built an altar there, and called upon the name of the LORD, and pitched his tent there; and there Isaac's servants dug a well.This was the first time in this chapter that Isaac built an altar.
The place for God's people is the place of God's presence. The place of intimacy, worship, and communion with God is the place to abide. That is how you build an altar. Isaac didn't stop building wells, but he did it in the right order, and instead of opposition he had Peace. He was able to enter into the Rest of the Lord.
Categories: Letting Go
/