Shopping Basket
Your Basket is Empty
There was an error with PayPal
Click here to try again
Thank you for your business!
You should receive an order confirmation from Paypal shortly.
Exit Shopping Basket
| | |
| --- | --- |
| Posted on 19 May, 2013 at 13:11 | |
Excerpts from the book "MASKED" by R.A. Vukovich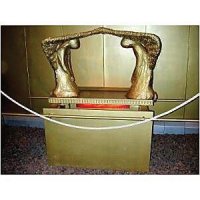 The Blood Covenant 
Blood Brothers 
Two men stood opposite one another, focusing on what they must do. They hardly noticed the bright red bloodstains on the ground from the animals that had been divided in half as a sacrifice for this occasion. Witnesses stood in anticipation as a covenant was being cut. In a figure-eight pattern, both men walked through the blood of the flesh lying opposite one another. Their feet were covered in the blood of the slain animals, leaving bloody footprints where they walked. This is called the walk of death. 
"I am dying to my rights and independent living." 
They pointed first to heaven and swore by an oath, "May the gods do so to me—" and then point to the slain animals, "if I break this covenant." Each pronounces the curses and the blessings. 
Previously, the two men took off their garments and handed them to one another. They then clothed themselves in the other's garment.
"You are putting on me, and I you— we are one." 
They then handed each other their belts. "When you are weak, my strength will be there for you." 
Each then took his weapons, his bow, and his spear and exchanged it for the others'—"We now have the same enemies." Now they were ready to cut covenant. 
Each made a cut on his forearm, and they joined forearms, letting their blood mingle. It was then stated, "We once were two, but are now one." 
They wiped the blood from their blades on covenant papers. The two brothers declared, "We are brothers in a covenant before God; who deceives the other, him will God deceive." The blood-marked covenant papers were folded carefully. Later they would be sewed up in a small leather case to be worn around the neck, near the heart, as a token of indissoluble relation 
In turn, each recited what he owned and what he owed. The men would share all their resources from that day forward. "What is mine is yours, and what is yours is mine." 
They then reached down and scooped up small handfuls of dirt mingled with small stones and rubbed this abrasive into their freshly cut wounds. "When I look at the scar, I will remember my covenant partner." 
They exchanged new names. "I have a new identity because of the covenant." 
They sat down to partake of a covenant meal. One broke bread and placed it in his covenant brother's mouth. Then the other did the same. "You are eating me, and I you."
Then they exchanged wine, each drinking from the other's container—"I am drinking your blood, and you mine." 
Gifts were exchanged. A tree was planted as a memorial of the covenant between the covenant brothers. "Now I call you friend." 
Vaguely Familiar 
This was a covenant cut in blood. It was a covenant that could not be broken or voided—a covenant pledged out of love and sealed unto death. As you read and visualize what took place—regardless of how primitive it may appear— there must be something within you that screams, "This seems vaguely familiar." It's as if you have partaken in a similar form of covenant without fully understanding the purpose, bond, and power of the covenant.
"It seems that among modern students of myth and folklore, primitive ideas and customs, and of man's origin and history, has brought into their true prominence, if indeed he has even noticed them in passing, the universally dominating primitive convictions; that the blood is the life; that the heart, as the blood-fountain, is the very soul of every human, or divine-human, secures an inter-union of natures; and that a union of the human nature with the divine is the highest ultimate attainment reached out after by the most primitive, as well as by the most enlightened, mind of humanity."
Many primitive cultures from around the world from antiquity to the present time have an understanding of cutting covenant; however, most Christians do not. Yet everything God does is based on covenant. As we explore the tradition of covenant, may each principle and truth lead us to a greater comprehension and appreciation of the new covenant in Christ's blood that we have. May we leave this chapter with a sense of awe and a sense of how valued and precious in God's sight we really are. 
Common Threads 
As we look at several covenant rites between people from various cultures, we will see similarities and notice that there are common threads which run through each of these cultural covenant rites—threads that are a part of our divine covenant lives; threads that cannot be exempt or ignored if there is to be a covenant cut. These threads are characteristics of divine covenant.
To be continued...
Categories: Blood Covenant
/