Shopping Basket
Your Basket is Empty
There was an error with PayPal
Click here to try again
Thank you for your business!
You should receive an order confirmation from Paypal shortly.
Exit Shopping Basket
| | |
| --- | --- |
| Posted on 9 February, 2014 at 19:29 | |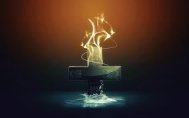 I recently ministered at a conference where I spoke on the theme "Do you know the Holy Spirit?" As I prepared for this conference the Holy Spirit began to show me areas in my own life that I had not yielded to the Holy Spirit.
I knew He was the Spirit of Truth spoken of in John 16:13. I understood without any doubt He was indeed my Comforter as spoken in John 14:26. The Holy Spirit was definitely my mentor and teacher. He opened up the Word of God with revelation, and inspiration I could have never known on my own (1 Corinthians 2:13). I also knew that the anointing, gifts and fruit were of the Holy Spirit. However, I realized that after forty years of walking with the Lord that I had put the Holy Spirit in a religious box. I took Him out, as I needed Him, not realizing I needed Him all the time, not just when I preached or prophesied. He wanted to be more than my comforter, and teacher. He wanted to be my companion, a covenant friend that sticks closer than a brother.


He is that still small voice that we should not ignored. The blazing fire within that cannot be put out. He is the unquenchable thirst for more of God, the living waters. The Holy Spirit does reproves, helps, glorifies, and intercedes in our behalf. (John 16:7-13; Rom." 8:26)


When we pray we make known our request before our Heavenly Father in the name of His son, Jesus Christ. We give honor and praise to the Father and the Son, but we fail to acknowledge and honor the third part of the Holy Trinity, the Holy Spirit. Why? Because we fail to recognize who He is in ours lives.


He is not an It, Bird (Dove), or Goose Bumps. He is the Spirit of the living God. The Holy Spirit can be— Grieved and Quench. Ephesians 4:30 says,  "And grieve not the holy Spirit of God, whereby ye are sealed unto the day of redemption."1Thessalonians 5:19 says, "Quench not the Spirit."



Knowing the Holy Spirit attributes doesn't address the question; do you know the Holy Spirit? To know the Holy Spirit is different than knowing about Him. If you admit you don't know Him, as you should, then ask Him to reveal himself to you more and more. Invite Him into your prayer and study time, speak to him, and use your heavenly language to pray in the Spirit. But, most of all yield and surrender to His will in your life! 


John 16:13-15 says, "13 Howbeit when he, the Spirit of truth, is come, he will guide you into all truth: for he shall not speak of himself; but whatsoever he shall hear, that shall he speak: and he will shew you things to come. 14 He shall glorify me: for he shall receive of mine, and shall shew it unto you. 15 All things that the Father hath are mine: therefore said I, that he shall take of mine, and shall shew it unto you."

Categories: Let me lead
/