Shopping Basket
Your Basket is Empty
There was an error with PayPal
Click here to try again
Thank you for your business!
You should receive an order confirmation from Paypal shortly.
Exit Shopping Basket
| | |
| --- | --- |
| Posted on 24 April, 2014 at 16:30 | |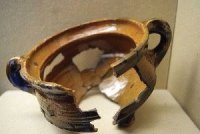 2 Tim. 3:1-9 "This know also, that in the last days perilous times shall come. For men shall be lovers of their own selves, covetous, boasters, proud, blasphemers, disobedient to parents, unthankful, unholy, Without natural affection, trucebreakers, false accusers, incontinent, fierce, despisers of those that are good, Traitors, heady, high-minded, lovers of pleasures more than lovers of God; Having a form of godliness, but denying the power thereof: from such turn away. For of this sort are they which creep into houses, and lead captive silly women laden with sins, led away with divers lusts, Ever learning, and never able to come to the knowledge of the truth. Now as Jannes and Jambres withstood Moses, so do these also resist the truth: men of corrupt minds, reprobate concerning the faith. But they shall proceed no further: for their folly shall be manifest unto all men, as theirs also was."
Paul isn't warning Timothy about the unsaved, or the world, but rather those who say they are Christians but choose sin, over righteousness. Paul calls them reprobate concerning the faith. How do I know they are not speaking about the world or unsaved? These things were already going on in the world. Remember God sent a flood once to destroy the world because of sin. Paul would not have warned Timothy about sinners in the world. Paul is addressing perilous time concerning sinners in the church, or so called Christians. 


Somerset Maugham, a British writer, who once wrote, "No action is in itself good or bad, but only such according to convention." Those with this belief have no reservations about living as they choose without fearing any consequences for their actions. Sadly this belief has filtered into the Church, and into the heart many of our leaders and others in the Body of Christ. Romans 12:9 says "Abhor that which is evil; cleave to that which is good." If we call evil good, and good evil, where is there room for repentance? 


When Christians believe that Sin is no longer sin, but a personal choice or lifestyle they are accepting the world's view instead of God's WORD. Those who choose to believe sin is no longer sin, they know that God is a loving God; therefore they used this as a license to do what ever they please without any guilt or fear of consequence. They sadly and perhaps unknowingly take the convicting power of the Holy Spirit out of the equation. Without conviction there is no remorse, therefore no repentance. If it's not sin in their eyes, then there is no need to repent.They feel justify because the world says its ok, but in God's eye they are not justified. God is also a just and righteous God, who hates sin, because sin separates us from God. 1John 1:8 clearly says, "If we say that we have no sin, we deceive ourselves, and the truth is not in us."


Romans 12: 2 says, "And be not conformed to this world: but be ye transformed by the renewing of your mind, that ye may prove what is that good, and acceptable, and perfect, will of God."The Word of God renews our minds. However, a person choosing to sin, most likely isn't reading the word of God, or earnestly praying because it would convict them of their ungodly choices (sin).Now understand I am not speaking of the person who is sinning and feel guilty. Who knows sin is sin and wants to be set free. That person will be set free as he/she yield and surrender to the word of God, and the Spirit of Truth.


"Tragically, many are eating at the table of demons, serving their own lustful appetites, and then attempt to come to the Lord's table to feast with the righteous. This leads on to spiritual sickness and death because these deceived ones do not discern the true Bread of God."  (1 Corinthians 11:29)


How well did Jeremiah speak the word of God concerning God's people in his generation and ours, "My people have changed their Glory for what does not profit…They have forsaken Me, the fountain of living waters, and hewn themselves cisterns—broken cisterns that can hold no water."(Jeremiah 2:11, 13)
Let's quit being a "friendly oriented church" and become a righteous church that leads by example.


It grieves my heart to see my brothers and sisters, pastors and leaders believing a lie rather than clinging to the truth. My prayer is that their eyes would be open. That having eyes to see that they might see the truth, sin as sin, and that their heart would be soften to receive the truth that they might be set free. Free to love and serve the Lord, the Author, and Finisher of their faith.

[1]David Wilkerson, Hungry for more of Jesus, 1992 Baker Book House Company, Grand Rapid, MI. pg. 17 Para 4
Categories: Perilous Times
/