Shopping Basket
Your Basket is Empty
There was an error with PayPal
Click here to try again
Thank you for your business!
You should receive an order confirmation from Paypal shortly.
Exit Shopping Basket
| | |
| --- | --- |
| Posted on 4 April, 2016 at 22:43 | |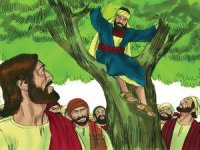 Luke 19:3 say, "And he sought to see Jesus who he was; and could not for the press, because he was little of stature."
We can allow our handicaps, shortcomings, or our past struggles and failures, to keep us from drawing closer to Jesus. Our past does not define who we are, Christ does. Zacchaeus was a tax collector who was hated by his own people, however he was also a child of Israel. 
We can blame God or others for our circumstance or we can get a closer look at who and what our Lord is saying to us.
"And he ran before, and climbed up into a sycamore tree to see him: for he was to pass that way." He used what was available, accessible to him to get to where he needed to be. Men normally don't climb trees unless their hunting game, but kids do. He had to forget about what others thought of him, he had to do what he would normally not do in order to get what he needed— a closer look at Jesus.
Mathew 18:3 says, "Verily I say unto you, Except ye be converted, and become as little children, ye shall not enter into the kingdom of heaven."Why children? Children are uninhibited, have tremendous faith and quick to forgive. 
In order for Zacchaeus to get a closer look at Jesus, he had to use what was accessible and at his disposable. He reached back into his memories of his childhood and didn't care how foolish he made have looked God always bring us a boat, canoe, helicopter to help us transition from where we are to where we need to be. The problem is sometime we don't recognize the help, blessings, or the opportunities.
How many of us have climbed a tree as a child? I'm sure most of us did. But, how many of us as an adult still do? Most of us would feel foolish, not to mention our bodily limbs don't work like they use to when we were children.
When I was a child there was a favorite tree that my cousin and I would climb. We would climb the tree to get away from our annoying siblings. We could see them looking for us as they called our names, but they never saw us, because they never looked up.
"5 And when Jesus came to the place, he looked up, and saw him, and said unto him, Zacchaeus, make haste, and come down; for to day I must abide at thy house." Jesus Looked Up! Jesus knew exactly where Zacchaeus was, just like he knows where we are, whether we are up a tree or up a creek without a paddle. 
Jesus looked up and He knew Zacchaeus name. Jesus stopped to let Zacchaeus know he knows him and desires to abide at his place. To abide in his house and in his life."6 And he made haste, and came down, and received him joyfully.7 And when they saw it, they all murmured, saying, That he was gone to be guest with a man that is a sinner. " 
Who are they? The religious sector who could see the speck in other people lives, but not the beam in their own eyes. Not only did they judge Zacchaeus but they were jealous of him. Your greatest opportunity will always come with opposition.
"8 And Zacchaeus stood, and said unto the Lord: Behold, Lord, the half of my goods I give to the poor; and if I have taken any thing from any man by false accusation, I restore him fourfold." Zacchaesus begins to justify or make excuses, or perhaps he is convicted of his lifestyle and is attempting to make amends. 
When you get close to Jesus, something changes; your heart and lifestyle take a transformation. The thing you use to do, and believe, changes. You are not the same person you were before you met Jesus.
"9 And Jesus said unto him, This day is salvation come to this house, forsomuch as he also is a son of Abraham. 10 For the Son of man is come to seek and to save that which was lost."
Sometimes being out on a limb isn't a bad place to be, if it brings you closer to Jesus.


Categories: Press On
/