Shopping Basket
Your Basket is Empty
There was an error with PayPal
Click here to try again
Thank you for your business!
You should receive an order confirmation from Paypal shortly.
Exit Shopping Basket
| | |
| --- | --- |
| Posted on 6 May, 2016 at 8:27 | |
I've come to enjoy going on Facebook and talking with other people. It reminds me of the Ham radio's in the old days. People today are much more opinionated and sometimes the language is inappropriate and downright rude to say the least. When that happens, I ask them once to refrain from that language and if they don't I just don't respond to them anymore.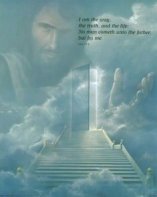 I've met one gentlemen from California. We argue about everything, but we do it respectfully and often end the day with something funny. Although I have a sense of humor, I also have a serious side. I am a strong conservative Christian who follows the Bible. I will often post something with other people who claim to be Christians, but go against what the Bible says.
I have been told that all religions will be up in heaven; I then point out what the Jesus says in John 14:6 NIV "I am the way and the truth and the life No one comes to the Father except through me." Also Romans 10:9 NIV says, "That if you confess with your mouth, "Jesus is Lord," and believe in your heart that God raised him from the dead, you will be saved."
They seem to disregard what the Bible says. I was told that I would be surprised at all the different religions that will be up there. They add that the God that they know would let everyone into heaven.
While again we have to go back to what the Bible says. In Exodus 20:3-6, "You shall have no other gods before me. You shall not make for yourself an idol in the form of anything in heaven above or on the earth beneath or in the waters below. You shall not bow down to them or worship them. For I, the Lord your God, am a jealous God, punishing the children for the sins of the fathers to the third and fourth generation of those who hate me, but showing love to a thousand generations of those who love me and keep my commandments."
On my job I attended my first class on unionism. I was taught that it doesn't matter what the contract says, interpret it to mean what you want it to mean. I have found that people do the same with the Bible. Example 1Timothy 6:10 has been shortened to say that money is the root of all evil. What it really says is, "For the love of money is the root of all kinds of evil." Notice the big difference? 
Another argument is when we are discussing homosexuality. Although there are numerous Bible verses against it, people will say that Jesus never said anything against it. There is a lot of thing Jesus didn't say. Jesus didn't say that we shouldn't do drugs, rob banks, etc. I believe you get my point.
What I don't understand is how someone can call them self a Christian, but do not believe what is written in the Bible. God has a simple, but precise plan for salvation and eternal life. We are all sinners. Therefore, unless we repent of our sins, and believe that Jesus Christ is our Savior, the Son of God, who died in our place for our sins. We will not see or enter into Heave, but rather hell and damnation for eternity. No other gods or prophet died for you, they are idols and men who could not redeem you, why? Because they are mortal men, who sinned just like you and I. If you believe that Jesus Christ was crucified, buried, and risen from the grave, you will receive forgiveness for all of your sins, and the gift of eternal life.
It is a gift, Christ paid the price with His life so you can have eternal life. It is not something you deserve or earned. Remember, God does the saving, all of it.
If I am wrong I have lost nothing, but if you are wrong you have lost your very soul and sentence yourself to eternal damnation, because you choose to believe a lie instead of the truth. Truth or Consequence you choose, I already have.
If you are ready to make this commitment repeat this prayer: Heavenly Father, I believe that Jesus is the Son of God. That He came to earth in the form of man, to redeem mankind by taking our sins on the cross. I realize now that sin is what separate me from you. I asked for forgiveness for all my sins that I have committed and receive what Jesus Christ did for me on the cross. I ask Jesus Christ to come into my heart, and my life and change me into the child of God that you have called me to be.
If you prayed that prayer, the Bible says your name is written in the Lamb book of Life. Read the Bible and find a church that teaches the word of God.
Categories: Perilous Times
/